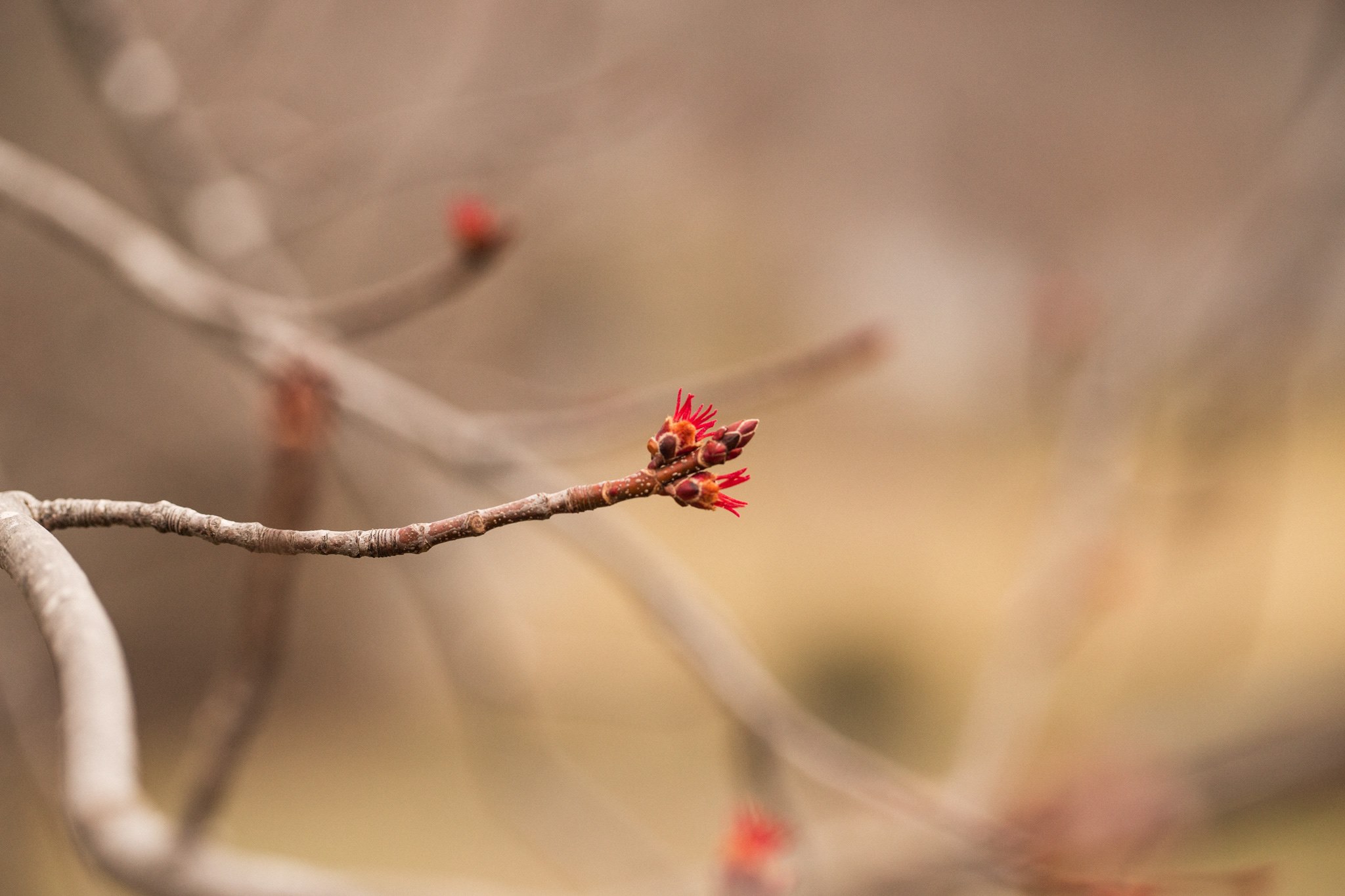 CONTENTS
---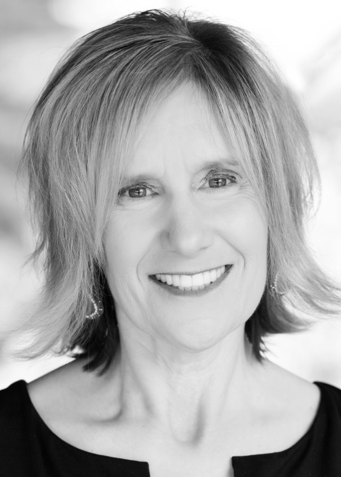 Several of our MSCH members recently returned from the Annual Scientific Meeting and Workshops of the American Society of Clinical Hypnosis held in San Antonio, Texas during April 2019. As President of MSCH, I was fortunate to attend the conference. While walking on the sidewalks of the whimsical River Walk, I saw cowboy hats, cowboy boots, electric scooters, electric bicycles, and–every now and then–MSCH members and ASCH members meeting and greeting each other. I noticed as I mingled with colleagues from across the country that I consistently heard what a fine reputation MSCH has earned nationally. We can all feel pride in our organization, which is well deserved!
In fact, several MSCH members taught at the ASCH annual conference including Cheryl Bemel PhD, Suzanne Candell PhD, Al Clavel MD, Delle Jacobs LICSW, LMFT, Jennifer Stoos MDiv MA MFT, and Mark Weisberg PhD, ABPP.
Closer to home, we are eager to learn from Gary Elkins, PhD, our guest faculty for the 48th Annual Spring Workshops (Intermediate/Advanced track) starting on Thursday June 13th through Saturday June 15th 2019. Gary is an engaging teacher and I know our membership will enjoy his presentation on Mindful Hypnosis: Experiential Exercises, based on his recent book Mindful Hypnotherapy which was recently published in September 2018. If you've not heard Dr. Elkins before, you are in for a memorable treat!
Gary's books will be for sale at base price from the publishing house during the June workshop, so you can get the bonus of having him sign your book if you choose to make a purchase.

Of course, we will simultaneously hold our Fundamentals course in Clinical Hypnosis for beginners in hypnosis and for those of us who want to attend Fundamentals again—I have attended Fundamentals multiple times and always learn new skills each time I attend. The Fundamentals training will also be held from Thursday June 13th to Saturday June 15th
The MSCH Education Committee and Board are in the process of planning our educational calendar for Fall 2019 to Spring 2020. MSCH CEU's are the 'best deal in town' and 'bang for your buck' when it comes to value for professional quality and price value, in my opinion.
I hope to reconnect with many of you at the Spring workshop. I hope you enjoy playing the "Hypnotic Bingo" game attached to your name badge. We will also hold our MSCH Raffle, where you can buy lottery tickets to enter into a drawing for prizes. Also, look for hidden "MSCH Medallions," which will be found in some surprising places around the conference site by some lucky winners — perhaps by YOU (!!).
In closing, I would like to thank Heather Klein, PhD for her generous contributions as editor of IMAGES after many years of service. Her productions of Images have been trance-forming, entertaining, and creative. THANK YOU HEATHER! We are currently seeking a new IMAGES Editor, as Heather will be trance-sitioning to become our new Small Group Coordinator for facilitator education for the Fundamentals workshop. Roni Ahern, MA, and Bev Caruso, LICSW are "passing the torch" to Heather's very capable hands. Thank you Roni (Small Group Coordinator and Trainer) and Bev (Small Group Leader Trainer) for your outstanding leadership for the past 17 years!

Finally, I would like to thank the faculty who teach at the June workshops; our faculty members volunteer their time to teach our newest students about fundamental best practices in Clinical Hypnosis.
Cordially,

---
Nomination Deadline: May 7, 2019
Each year the Minnesota Society of Clinical Hypnosis presents two awards that honor two active MSCH members who have made outstanding commitments to our organization.
David M. Wark, Ph.D. Outstanding Teacher Award
This award recognizes excellence in teaching, advising, program innovation and development, and educational leadership.
Daniel P. Kohen, M.D. Outstanding Clinician Award
This award recognizes outstanding leadership in the clinical practice, teaching, and utilization of therapeutic hypnosis.
Qualifications
Each award recipient must:
be a current member of MSCH,
demonstrate a strong commitment to the service of our organization,
actively participate in MSCH activities,
NOT be a current board member of MSCH.
Award Presentation
Awards will be presented during lunch at the annual MSCH workshop in June.
How to Nominate
Any MSCH member with knowledge of an outstanding teacher or clinician can make a nomination by completing our online form:
or writing a brief letter and submitting it to Heather Klein
heather.klein@parkdaletherapy.org
All nominations must be received by May 7, 2019.
Past Wark/Kohen Award Recepients
| Year | Wark Award Winner | Kohen Award Winner |
| --- | --- | --- |
| 2019 | Gregory Heberlein, MA, LP | Jennifer Stoos, MS, MFT |
| 2018 | not awarded | Glenn Frisch, DC |
| 2017 | Delle Jacobs, MSW, LICSW | Richard Duus, PhD, LP |
| 2016 | Michael LaCrosse, PhD | Alfred Clavel, Jr., MD |
| 2015 | Peggy Trezona, MS, RN, CS | Andrew J. Barnes, MD, MPH |
| 2014 | Denise D'Aurora MEd, LP | Wendy Lemke MS, LP |
| 2013 | Kate Pfaffinger PhD, LP | Teena Moy PhD, LP |
| 2012 | Richard Studer MA, LMFT, LT, LICSW | not awarded |
| 2011 | Beverly Caruso MSW | Suzanne Candell PhD, LP |
| 2010 | not awarded | not awarded |
| 2009 | Jack S. Rusinoff MA | Kevin Harrington PhD |
| 2008 | John Sowada MA, LP | Ewa Peczalska PhD, LP |
| 2007 | David Alter PhD | Jean Manlove ACSW, LICSW |
| 2006 | Mark B. Wiesberg PhD, ABPP | Helen C. Paul PhD |
| 2005 | Roni J. Ahern MA, LP | Ralph E. McKinney PhD |
| 2004 | David M. Wark PhD | Daniel P. Kohen MD |
---
Get Involved!
Would you like to be part of making MSCH an exciting and enjoyable community for learning about hypnosis and mind/body healing? If so, we want you to reach out and let us know. Our Education Committee needs you to help with planning and executing the Saturday morning workshops, as well as the Fundamentals and Advanced Workshops each spring. If you're interested, please email Cheryl Bemel at c.bemel@comcast.net. Thanks!
We are also looking for a new IMAGES newsletter editor. The newsletter is published twice a year and a lot of fun to put together! I will be mentoring the next editor and look forward to passing on the torch to someone with new and fresh ideas! Please email Heather Klein at heather.klein@parkdaletherapy.org if you are interested! Thanks!
MSCH Mission Statement
"Our mission is to promote clinical hypnosis and quality education through intellectual rigor, curiosity, integrity, and community."
Gary Elkins' Sample Book Chapter
Gary Elkins will be the Annual Workshop Presenter in June 2019. A big thank you to Randi Born, a member of our education committee, for passing on this little treasure! Gary Elkins has a new book out and the publishing company has provided a sample chapter. We hope this sparks your interest in the next annual workshop! Click to read Sample Chapter.
June Workshop Reminders
If you have not already registered, please do so and encourage others to come for either the Introductory or Intermediate/Advanced Workshops. Our best advertising is word of mouth! Let them know what a helpful (and fun and rewarding) set of skills they, too, can develop. (Click to Register for the Advanced Workshop)
Introductory Full Registration Includes FREE 1 year MSCH Membership for 2019-2020 ($90 value)
MSCH Membership Renewal Reminder
ALL MSCH Memberships for the 2018-2019 calendar year WILL EXPIRE ON June 30, 2019.

Keep your membership current for the full 2019-2020 year by renewing at the annual workshop or online at: https://msch.us/renew-membership
**New MSCH Member Benefit
We want to help patients connect with our MSCH Members. We will post YOUR WEBSITE LINK in the "Find A Therapist" section (SEE HERE) on the MSCH website. If you're interested in having your website link listed on our website, please email your web address to Deb Schrobilgen. mschsecretary@gmail.com
MSCH Facebook Group
MSCH has a Facebook Closed Group forum for MSCH members and potential members. It is our place to share ideas and information about our organization. It is our hope to spark interest and generate conversations about our shared passion of hypnosis. If you are on Facebook
CLICK ON THIS LINK and request to be added
MSCH Has MUGS!
GET your MUG at the next MSCH event!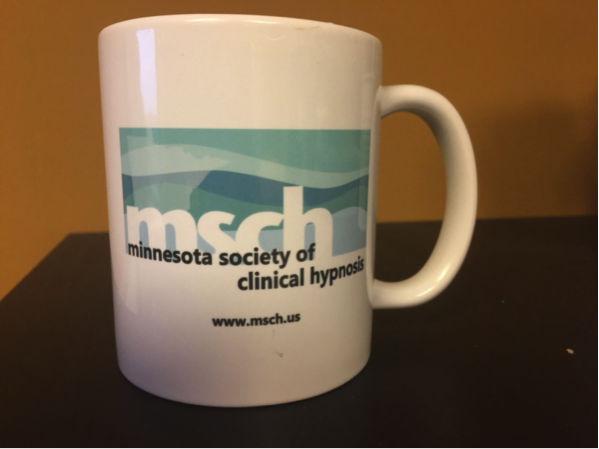 Only $10.00!
---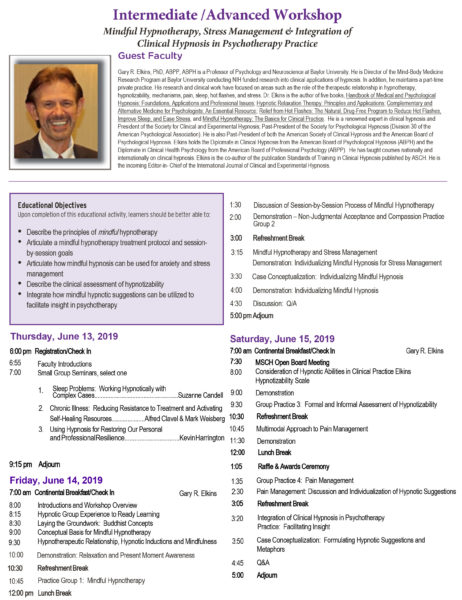 ---
"Shifting States: Using Hypnosis with Couples"
Presenter: Jennifer Stoos, MA, MDiv, LMFT
Reviewer: Lynne Silva-Breen, MDiv, MA, LMFT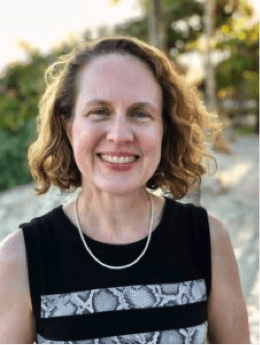 Oh, my. There is nothing quite like the chaos and energy that conflicted couples can bring to a counseling office. It's enough to make even the most seasoned and daring family therapist cringe! Like many LMFTs, a large portion of my practice is working with couples, some of whom have left me questioning my ability to help. So, when I saw on our MSCH schedule my colleague Jennifer's workshop on using hypnosis techniques with couples, I knew I had to attend. What a wonderful morning it was.
Jennifer began the workshop reminding us that in time, all couples create their own kind of automatic relational patterns, what she called their "couple circuitry." Each couple co-creates hypnotic interactions in which they unconsciously entrance through their eye gaze, tone of voice, anchor words, behavioral cues and facial expressions. While happier couples create and maintain multiple automatic interactions that sustain a positive couple climate, every intimate relationship can suffer with patterns of automatic defensiveness, withdrawal, criticism or other disconnecting emotional/behavioral patterns. Since these patterns are largely unconscious, the work of therapy is generally first to make what is unseen seen.
Just knowing what is going wrong isn't going to change much between the couple. What does help couples change is creating new experiences, practicing them, and slowing both partners down to become their own healing agents. In these moments, we can bring in our hypnotic skills to move clients toward change.
Jennifer put it this way: if we can enter into the couple conflict dance at an early stage, Point A, when the couple normally moves to Point B, we can use hypnotic techniques in session that can demonstrate a possible Point C. From this point the couple is given new experiences that can be practiced, repeated, and possibly entrained into their couple dance.
I can easily recall times when I have felt swept along helplessly in the storm of a couple's in-session interactions, wondering, as one of my LMFT mentors would often say, "What would a good therapist do?!" In helping to shift couple states, Jennifer mentioned three specific points: working with an individual to help them self-regulate; working with the couple together to regulate them both or help them regulate one another; and slowing down the interaction to listen and observe, while teaching each to take a genuinely calm, curious and interested point of view with the other.
Of course, in the hurly-burly atmosphere of some couple sessions, smoothly managing these interventions is no small trick. Jennifer mentioned that there are two paths for the therapist to take when working with these couple trances: the first is to join them in it, to feel it, and to narrate it for and with them. The second path in is to interrupt the trance, to take over a bit, and direct their trance in a new direction. Each path can generate that new experience, the Point "C," that we are aiming for when we hope to help couples experience and co-create change.
We ended our morning with some helpful role plays, demonstrating to one another these points of intervention when couples act out their stuck trance states. Reflecting on this training has helped me become more aware of those couple trances when I feel and see them, and how I might use my developing hypnosis skills to help conflicted couples move from hurting to hopeful, from Point A (pain) to Point C (new possibilities). I will urge Jennifer, who is a remarkably gifted teacher, to create more learning opportunities around family therapy and hypnosis in the future!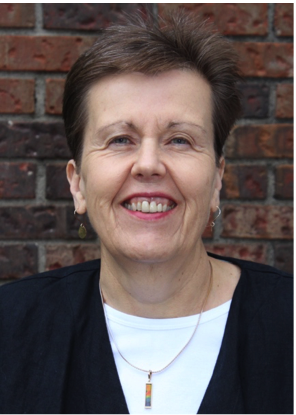 Lynne is a second career therapist, having been a Lutheran parish pastor for over 20 years. She has been in private practice in Burnsville since 2006, working with a wide range of individuals as well as couples. She has twin foci on mental health and spirituality as well as the unique concerns of long-term marriages. Lynne believes that our imagination holds the key to healing our troubled minds. She loves how emotional awareness, guided imagery, EMDR, hypnosis, meditation, ritual, storytelling, journaling, music and movement center us back into our bodies in ways that talk never can.
---
Shep Myers Memorial Workshop
Hypnotically Enhanced EMDR: Skills To Improve Outcomes
Presenter: Jill Strunk, Ed.D, LP
Reviewed By: Katheleen A. Avila, MA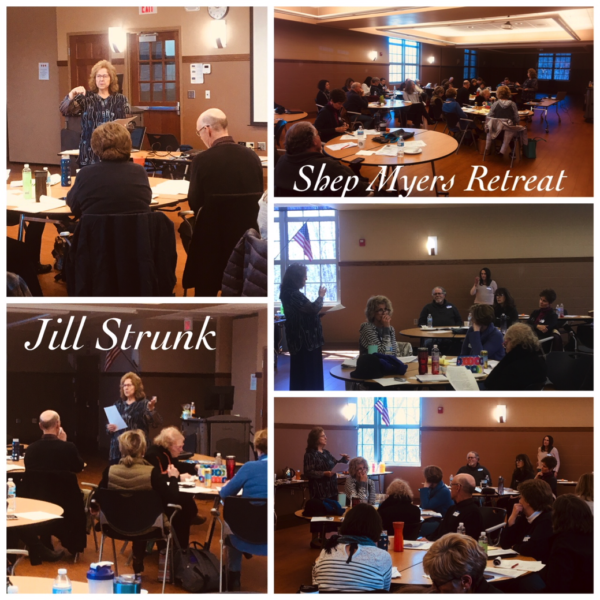 Through my experiences with Jill as an EMDR consultant and presenter, I have noticed she is very generous. In this workshop she provided an overhead handout and an additional 36 page handout.
These handouts included annotated statements by several well know authors in the field of EMDR under the heading of "Similarities and Differences Between EMDR & Hypnotherapy and Cautions." Specific examples of the EMDR preparation phase, which could be blended with hypnotherapy and sample scripts, as well as 8 pages related to metaphors and extensive framing of developing inner adult resources were provided.
Something always to appreciate about Jill is she does not have to follow slides. Her own
therapeutic tool box is so full and she is able to integrate the material in a way that allows her to carry on a vital communication and teaching opportunities with participants without having to go slide to slide.
Jill talked about her modified protocols with *Alchemical Hypnotherapy and how she blended them with prior Ericksonian Hypnotherapy training. Some of the modified protocols she uses are: developing inner guides, inner child work, completing inner communication, and the inner conference room. A process I found immediately relevant to a client I am seeing is developing an inner adult trio, which is process based on Shirley Jean Schmidt's enhancement of Sandra Paulsen's first work. The adult trio of a nurturing adult self, a protective adult self, and a spiritual core self/essence are drawn from experiences within the client's neural networks. The approach includes strengthening these networks with bilateral tapping used in EMDR and imagining work. The scripts that Jill handed out are taken from Schmidt's Developmental Needs Meeting Strategy (DNMS). The process is very specific and when these parts of the adult self are developed, they form resources to meet unmet inner child needs. My first work with this approach was with a client who had just said her angry inner child was really showing up. What I learned was that inner angry child believed she could tolerate only one of her adult resources at a time (not what I was going for or expected). Yet, it affirmed what I already knew on one hand that she has had to maintain control at all costs. This need for control led to her inability in her adult life to trust her very competent adult resources. On the other hand, I did not know how much her anger has played in that control and over compensation. (To be continued…)
Overall, this was a very applied and integrated workshop. Lunch and snacks were great, as always the clinicians who do this deep work were friendly and enjoyable. I commend Jill for all the work she put into our one day workshop, and as always, there's so much more to be integrated.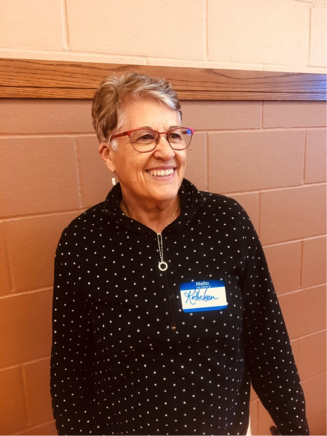 *NOTE: MSCH does not endorse the theoretical principles and practices of Alchemical Hypnotherapy. MSCH strictly adheres to the principles and standards of practice of the American Society of Clinical Hypnosis. This was not a training in Alchemical Hypnotherapy. Jill Strunk has had prior training in Alchemical Hypnotherapy as well as Ericksonian Hypnotherapy.