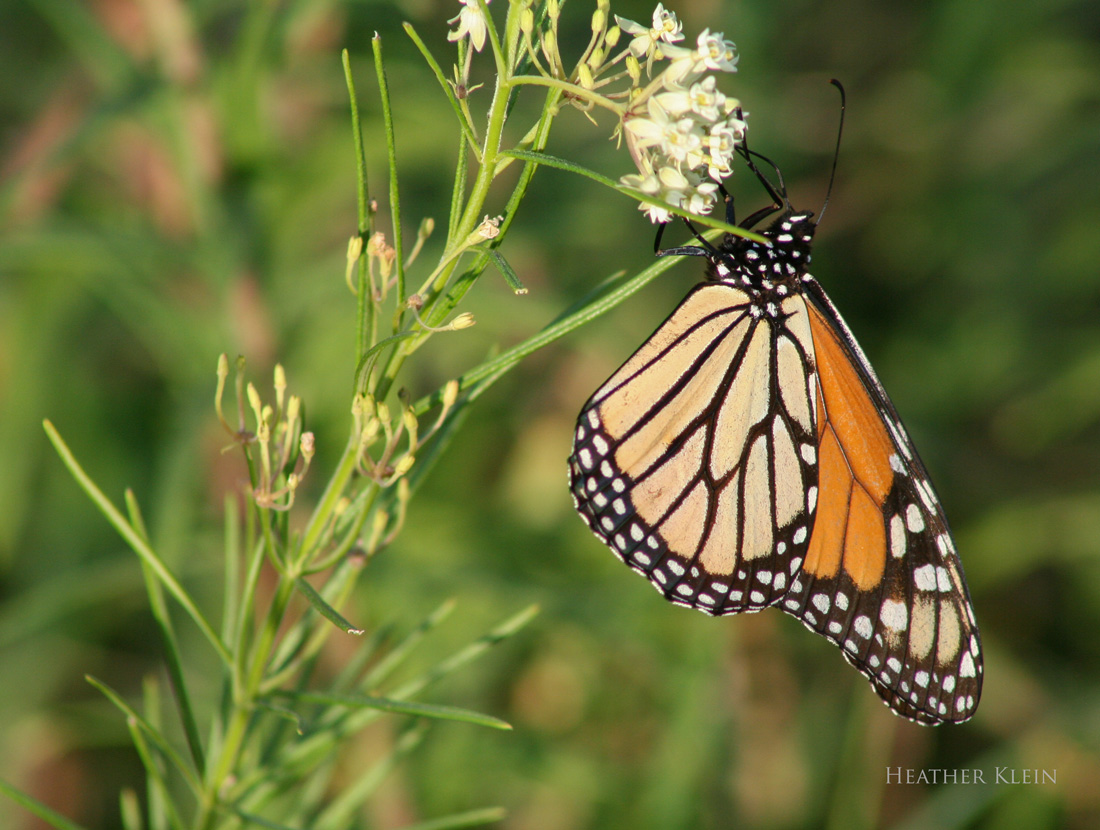 CONTENTS
---
President's Suggestion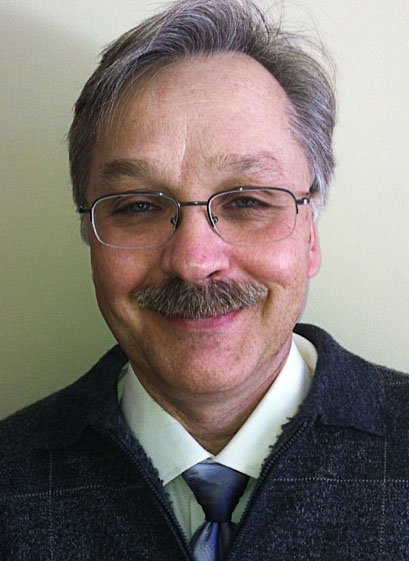 Our President, Al Clavel, MD
What does Patient-Centered Medicine, Hypnosis, Therapeutic Utilization, Attachment and Self-Care have in common?
Chronic pain is the top reason for seeking health care with associated disability, work loss, poor quality of life and opiate dependence. Nationally, it is the primary driver of health care. In the past decade, the death rate and other complications associated with opiate use for chronic pain has increased. In Minnesota, there are more deaths due to opiate overdoses than to motor vehicle accidents and homicides. The opiate crisis has taken much of the attention away from the chronic pain epidemic in this country. Unfortunately, chronic pain and addiction are inextricably linked together in cultural norms, patient expectations, treatment guidelines, and on a neurochemical basis. Failing to provide a patient centered approach to patient care needs in a systemic plan leaves patients and providers feeling discouraged and at times hopeless. Everyone recognizes the need to do something different.
Of all the approaches to treat chronic pain, interdisciplinary treatment has the best evidence for efficacy, cost-effectiveness, and most importantly, lack of iatrogenic complications. In patients with intractable chronic pain for whom quality of life and life roles have deteriorated and sense of self has eroded, integration of evidence based treatment across disciplines is clearly most effective. This is especially true for chronic LBP. As I stated in the fall Images, "Therapeutic utilization is at the heart of patient-centered care. When assessing a problem and the skills or resources needed to manage it effectively, the in-the-moment or real-time use of trance and therapeutic hypnosis provides a unique opportunity at both assessment and utilization simultaneously. "
One factor missing from different treatment approaches is the patient's role in healing. For example, back and neck pain can begin at almost any age. In fact, musculoskeletal problems such as neck and back pain are so common that they are almost unavoidable. Thankfully, this pain tends to improve with a warm shower, gentle stretching, rest and over-the-counter medication. For some, however, these symptoms linger or even become more severe and interfere with normal daily activities. When finally present for acute LBP, the condition is already chronic and centralized in 75% of patients.
Over the last few decades, more than 1,000 randomized controlled clinical trials have been published on low back pain alone. Most treatments for low back pain have limited clinical value. What is missing from these treatments is the role of the patient in healing and patient-centered care. How many more trials are needed to prove that we can't fix low back pain? Why do we persist in focusing care on quick fixes or structural pathology when epidemiological studies have shown that imaging findings don't separate patients with pain from ones without pain in most cases? Imaging studies can be helpful in only a small subset of patients, or about 5%.
In this years Spring workshop, Eric Speigel will provide a unique experience in providing an Attachment based treatment to promote healing on a deep relational level providing the foundation of all patient centered care. We already know that hypnosis doubles the effectiveness of CBT for chronic pain and cognitive hypnotherapy doubles that effect. Consider adding Attachment based work on that experience. The opportunity and potential are amazing.
Most critical to the success of treatment is the understanding that intractable chronic pain and opiate addiction are diseases of the person and that traditional medical approaches cannot address all the pain and opiate related problems in this population. The timing is right for a new approach to helping patient improve, take control of their life and begin the journey to healing chronic pain.
I hope to see everyone at this year's workshop.
President
Alfred Clavel
---
Have You Registered
for the Annual Workshop?
View Workshop Flyer
Register for the Advanced Workshop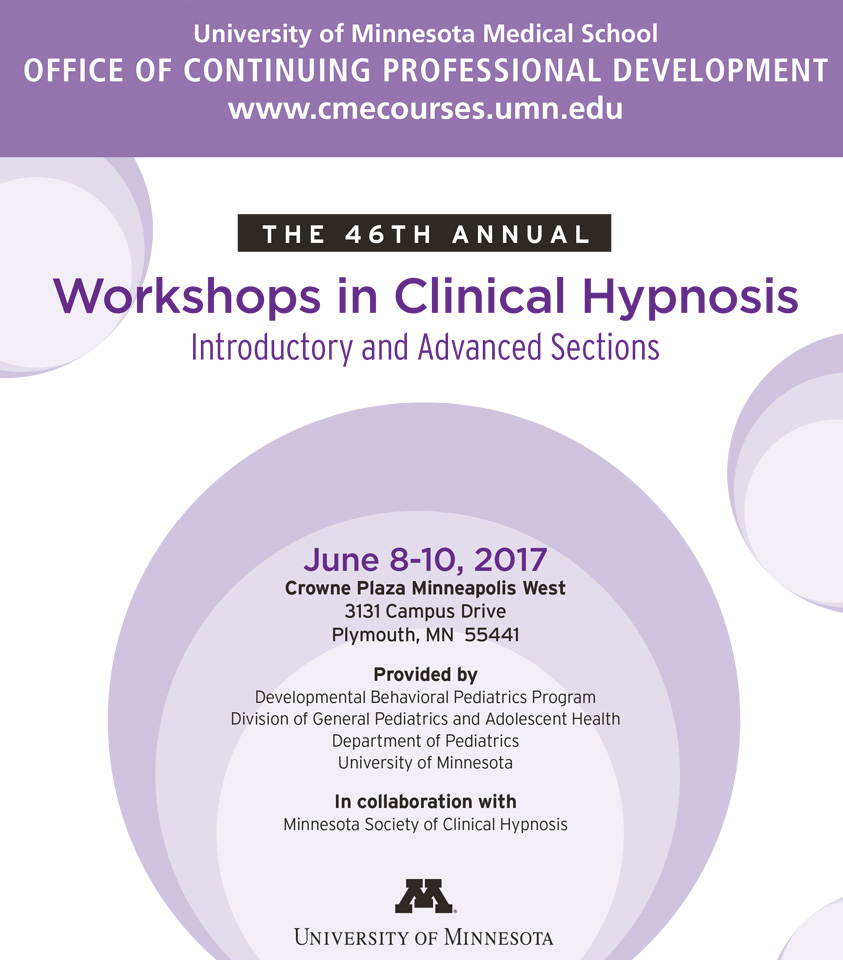 Featuring Guest Faculty Eric Spiegel, Ph.D.
Eric Spiegel, Ph.D., is a licensed psychologist in private practice in Philadelphia, PA, United States. He is certified as an Approved Consultant in clinical hypnosis by the American Society of Clinical Hypnosis (ASCH). A 2012 recipient of ASCH's Early Career Achievement Award, he was named a Fellow of the Society in 2015 and is the incoming President-Elect. Dr. Spiegel is co-author of the book Attachment in Group Psychotherapy, published by the American Psychological Association in 2013. He has also published on attachment and hypnosis in the International Journal of Clinical and Experimental Hypnosis (IJCEH) and American Journal of Clinical Hypnosis (AJCH). Dr. Spiegel specializes in working with anxiety, trauma, and relationship issues. He has taught undergraduate and graduate psychology courses at Drexel University, James Madison University, Lafayette College and the University of Maryland, and enjoys teaching internationally on a wide range of subjects, including attachment and hypnotherapy.
In addition to Dr. Spiegel's Workshop on Friday and Saturday, registrants may choose from several offerings of Advanced Workshops on Thursday evening taught by local MSCH Faculty:
Hypnosis and Psychotherapy: Getting Started and Continuing On
co-presented by Helen Paul and Cheryl Bemel
Psychophysiology presented by Al Clavel
Sleep: Working Hypnotically with Complex Cases presented by Suzanne Candell
Advanced Hypnosis Techniques: Reviewing the Work of the Masters presented by Ralph McKinney
Hypnotic Skeleton Keys for Unlocking the Neuroplastic Potential of our Clients presented by David Alter
Educational Objectives
Following completion of this activity, learners should be better able to:
Describe how a hypnotherapeutic attachment approach could be utilized for the purposes of developmental repair.
Articulate how the hypnotic elements of attunement, representation, mentalization can be used to facilitate developmental repair.
Deliver 3 hypnotic suggestions that advance the attachment goals of enhancing attunement in the hypnotherapeutic relationship, developing mental representation of a secure attachment figure or ego state, and increasing the capacity for reflective awareness about mental states in developmentally arrested patients.
Integrate attachment and hypnosis into the psychotherapeutic treatment of borderline and narcissistic spectrum developmental arrests.
---
Wark/Kohen Awards
Nomination Deadline: April 30, 2017
Each year the Minnesota Society of Clinical Hypnosis presents two awards that honor two active MSCH members who have made outstanding commitments to our organization.
David M. Wark, Ph.D. Outstanding Teacher Award
This award recognizes excellence in teaching, advising, program innovation and development, and educational leadership.
Daniel P. Kohen, M.D. Outstanding Clinician Award
This award recognizes outstanding leadership in the clinical practice, teaching, and utilization of therapeutic hypnosis.
Qualifications
Each award recipient must:
be a current member of MSCH,
demonstrate a strong commitment to the service of our organization,
actively participate in MSCH activities,
NOT be a current board member of MSCH.
Award Presentation
Awards will be presented during lunch at the annual MSCH workshop in June.
How to Nominate
Any MSCH member with knowledge of an outstanding teacher or clinician can make a nomination by completing our online form www.msch.us/wark-kohen.us or writing a brief letter and submitting it to Deb Schrobilgen (mschsecretary@gmail.com). All nominations must be received by April 30, 2017.
Past Award Winners
| Year | Wark Award Winner | Kohen Award Winner |
| --- | --- | --- |
| 2019 | Gregory Heberlein, MA, LP | Jennifer Stoos, MS, MFT |
| 2018 | not awarded | Glenn Frisch, DC |
| 2017 | Delle Jacobs, MSW, LICSW | Richard Duus, PhD, LP |
| 2016 | Michael LaCrosse, PhD | Alfred Clavel, Jr., MD |
| 2015 | Peggy Trezona, MS, RN, CS | Andrew J. Barnes, MD, MPH |
| 2014 | Denise D'Aurora MEd, LP | Wendy Lemke MS, LP |
| 2013 | Kate Pfaffinger PhD, LP | Teena Moy PhD, LP |
| 2012 | Richard Studer MA, LMFT, LT, LICSW | not awarded |
| 2011 | Beverly Caruso MSW | Suzanne Candell PhD, LP |
| 2010 | not awarded | not awarded |
| 2009 | Jack S. Rusinoff MA | Kevin Harrington PhD |
| 2008 | John Sowada MA, LP | Ewa Peczalska PhD, LP |
| 2007 | David Alter PhD | Jean Manlove ACSW, LICSW |
| 2006 | Mark B. Wiesberg PhD, ABPP | Helen C. Paul PhD |
| 2005 | Roni J. Ahern MA, LP | Ralph E. McKinney PhD |
| 2004 | David M. Wark PhD | Daniel P. Kohen MD |
Top
---
News of Note
June Workshop Reminders
If you have not already registered, please do so and encourage others to come for either the Introductory or Intermediate/Advanced Workshops. Our best advertising is word of mouth! Let them know what a helpful (and fun and rewarding) set of skills they, too, can develop. (Click to Register for the Advanced Workshop). Registration fees include continental breakfast, lunch, morning/afternoon breaks, and course materials that will be posted online prior to the course.
NEW THIS YEAR! Introductory Full Registration (Includes FREE 1 year MSCH Membership, $80 value)
MSCH Membership Renewal Reminder
To enjoy a full year of member benefits keep your membership current by renewing at the annual workshop or online at: https://msch.us/renew-membership. Your current Membership expires at the end of the MSCH fiscal year on June 30th. Some members continue to renew just before the annual workshop, which does still guarantee a significant registration discount. However, unless you then renew again within less than a year, you will miss out, for example, on attending our wonderful, members-only continuing education offerings (and fiscal bargains!) throughout the year.
MSCH Facebook Group
MSCH has a Facebook Closed Group forum for MSCH members and potential members. It is our place to share ideas and information about our organization. It is our hope to spark interest and generate conversations about our shared passion of hypnosis. If you are on Facebook
CLICK ON THIS LINK and request to be added
MSCH Has MUGS!
GET your MUG at the next MSCH event!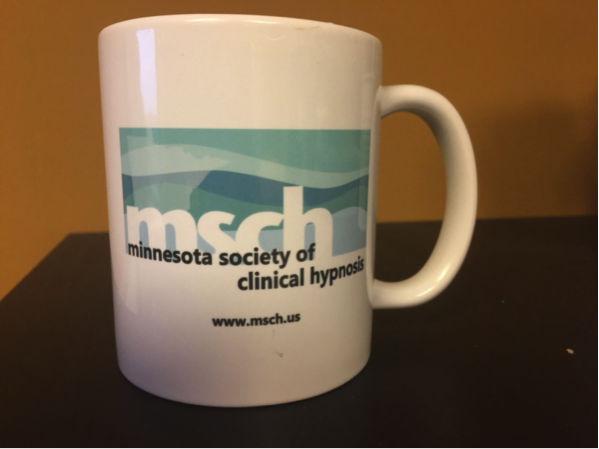 Only $10.00!
---
Greenway Bike Trail Cleanup
Shep Myers
As you may recall from previous newsletters, Shep Myers' family has "adopted" a section of the Greenway Bike Trail in memory of Shep. Dates for two 2017 clean ups will take place on Sundays, May 21 (Shep's birthday is the 23rd) and October 15. Clean up for both dates will begin at noon and last about an hour.
Date & Time: May 21, 2017 | 12 PM
Location: Brackett Park 2728 S 39th Ave Minneapolis
Questions: Cheryl Bemel c.bemel@comcast.net or (612)803-3018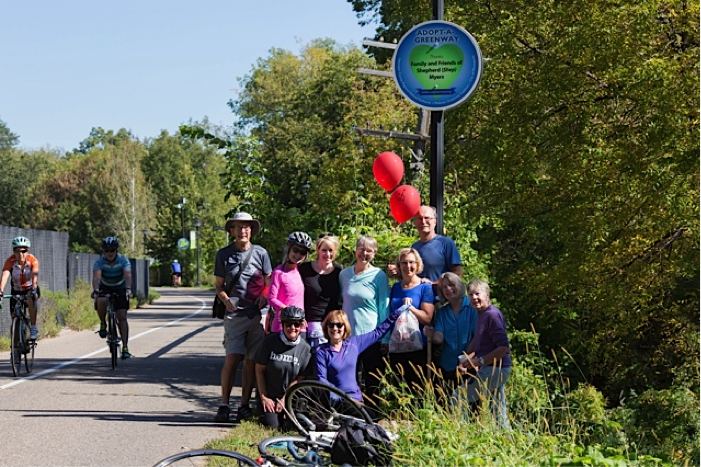 Deb Dornfeld (Shep's wife) was accompanied during the fall clean-up of the Shep Myers Section of the Greenway Bike Trail by family & friends including MSCH members: Delle Jacobs, Carol Rogers-Tanner, Cheryl Bemel & Susan Heitzman
---
December 3, 2016 Workshop Review: Healing Chronic Pain from the Body Up
Presented by: Alfred Clavel Jr., MD, and Mark B. Weisberg, PhD, ABPP
Reviewed by: Erin Dykhuizen, MA, MSW, LICSW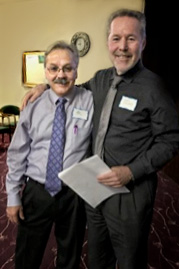 Our Presenters, Alfred Clavel Jr., MD, and Mark B. Weisberg, PhD, ABPP
On the morning of December 3, 2016, members of MSCH gathered at the Carondolet Center in St. Paul to learn from Dr. Alfred Clavel and Dr. Mark Weisberg how to address chronic pain in our patients "from the body up." Over the course of the morning we learned why treating pain from the body up is important and how these approaches differ from more traditional cognitive-based approaches.
To begin, Doctors Clavel and Weisberg reviewed the problems with current conventional management of chronic pain, which is highly opioid-dependent. They shared that there is no evidence that opioids are effective in treating chronic pain lasting longer than three months. In fact, extended use of opioids has been shown to lead to increased sensitivity to pain, called hyperalgesia. Along with long-term ineffectiveness and the dangers of overdose, opioids further exacerbate anxiety, depression, and are by nature dissociative.
Dissociation in particular creates problems in treating chronic pain. Doctors Clavel and Weisberg explained the role of autonomic dysregulation in chronic pain. For people with a healthy autonomic nervous system, there is a balance between the sympathetic and parasympathetic nervous systems – the body vacillates between activation/arousal processes and calm/settle processes in response to stimuli and has a natural recovery to homeostasis. When patients experience autonomic dysregulation, they tend to get stuck in one or the other of these states. In activation-arousal, where the sympathetic nervous system is activated, there is more anxiety, anger, muscle tension, and restlessness. In the calm-settle state, where the parasympathetic system is activated, the hallmarks are depression, exhaustion, disconnection, and dissociation. Dissociation leaves a patient's body stuck in the "freeze" stress response, which perpetuates chronic pain because the body is unable to realistically appraise the threats that the sensations in the body represent, and it tends to overestimate the threat level, leading to increased pain. It contributes to the guarding response and even the chronic disuse of body parts, which, in turn, contributes to even more pain.
Doctors Clavel and Weisberg also explained how dissociation interferes with the effectiveness of relaxation and more traditional hypnotic techniques. They by no means suggested that traditional cognitive techniques are ineffective with all patients – indeed, they are helpful for many patients where dissociation is not a big part of their pain response. They cautioned, however, that if a patient is unwilling to experience their pain and is not in touch with the sensations in their body, they are unlikely to be able to interrupt this "freeze" response with hypnotic suggestions that involve metaphors or imagery that work on a cognitive level. When someone is stuck in a dissociative state, they find it hard to believe that their experience of pain can change because they have not yet fully experienced their pain, let alone experienced it change.
This is where "body-up" interventions come into play. When we can help patients safely, gradually approach sensation in their bodies while staying in the present moment, they can begin to break the cycle of avoidance of sensation. Once they become more comfortable with this sensation, they can learn to reappraise the level of threat the sensations in their body represent to more realistic levels and interrupt the guarding response.
We had the opportunity to experience some of these types of interventions first-hand. Doctors Clavel and Weisberg led us through several variations of approaching the experience of sensation in the body. In one, we noticed the way we experience the sensations in our bodies changed over the course of several minutes. Some of us noticed that the painful sensations we focused on even dissipated or thawed as we drew our gentle, observant attention to them. We experienced how a suggestion of alternating attention between a sensation on the right side of the body and the left side of the body created novel reactions and changes that differed from paying attention to just one sensation at a time. For a patient especially avoidant of experiencing sensations, Doctors Clavel and Weisberg suggested beginning with an invitation to experience neutral sensations to begin to reappraise the threat-value of experiencing bodily sensations. Inviting patients to pay close attention to their experiences as they take ten deep breaths and to stay alert and grounded in the present can help patients begin to experience a shift in the way they perceive pain and decrease their fear of sensation. In this way, we can help patients learn how to begin to discern threatening from non-threatening sensations. To reduce the intensity of painful sensations, we can also add suggestions to become less interested in a sensation once we know that it is not a threat. We can also use metaphors of discernment to help patients understand that it is a natural process to be able to automatically distinguish between threats and non-threats and respond accordingly, like a mother who sleeps through a freight train rolling by, but is awoken by the whimper of her baby.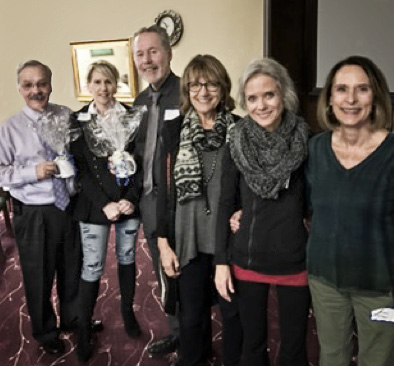 December workshop presenters, Alfred Clavel Jr. & Mark B. Weisberg take a moment to smile with MSCH board members/workshop volunteers, Cheryl Bemel, Linda Haller, Susan Heitzman, & Maureen McNeal
The depth of information presented in this morning went far beyond what I can capture in this review. This way of looking at chronic pain has been incredibly helpful to me in my work with patients, and I feel fortunate, as a clinician relatively new to clinical hypnosis, to have landed in a community with so many knowledgeable and generous clinicians, including Doctors Clavel and Weisberg. On my way out of the workshop, a fellow participant shared with me that she felt this was one of the best Saturday-morning trainings she had ever attended. As a new MSCH member this year, this was the first Saturday-morning training I ever attended. Since it was the first, it was by default the best I've attended, too. I only wish the compliment could be greater.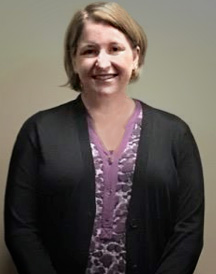 Our Reviewer, Erin Dykhuizen, MA, MSW, LICSW
Erin Dykhuizen, MA, MSW, LICSW , is a psychotherapist at the HealthEast Spine Center in Maplewood, MN. She works with patients dealing with spine-related conditions, focusing on the effects of pain in their lives and the effects of their lives on their pain. She completed the introductory training in hypnosis in 2016 and joined MSCH shortly thereafter.
---
January 14, 2017 Workshop Review
A Next Step On the Road to
Hypnotic Proficiency
Presented by: David Alter, PhD, ABPP, ABPH
Reviewed by: Mark Gemmel, PsyD, LP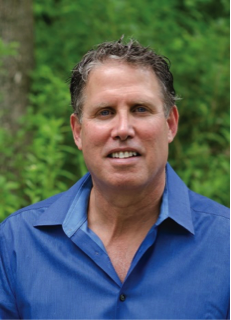 Our Presenter, David Alter, PhD, ABPP ABPH
MSCH members were treated to an encore presentation of Dr. David Alter's "A Next Step on the Road to Hypnotic Proficiency" on January 14th at the Carondelet Center in St Paul. The seminar was focused on, in Dr. Alter's own words, those of us "who would like to use Clinical Hypnosis more routinely, more naturally, more comfortably, and more effectively." An important theme guiding the presentation was how to integrate hypnosis skills into our existing practices, whatever the specific orientation or client population.
Dr. Alter begins by evoking Alfred Korzybski (1879-1950), the "Father of General Semantics," defined generally as the study of the impact of language on human behavior. It was Korzybski who famously stated, "The map is not the territory," distinguishing actual events and processes from the words we use to describe them. Korzybski also noted the serious limitations on the direct experience of reality imposed by our human nervous systems, human languages, and perceptual filters. In a similar manner to distinguishing map from territory, it also becomes critical to distinguish mind from brain, hypnosis from trance, content from process, and attention from awareness.
The presentation was very timely as many of us find ourselves evolving and adapting hypnosis, both in practice and the way we present it to others. There is a movement away from formal trance induction that recognizes the presence of trance arrived at by other means. Dr. Alter points to many points of entry contained in clients' orienting responses and tolerance for novelty—both of which can be utilized effectively in producing a mindset more open to possibility and change. These are responses in which the usual analytical, evaluative orientation is temporarily restrained and the opportunity for change—including brain change-is heightened. Effectiveness is also dependent on various additional factors identified in "The Four Axes of the Hypnotic Skills Toolbox," which include variations based on specific loci: resource (within clinician and client), (dis)orienting (internal vs external focus), change tolerance (familiarity vs novelty), and re-patterning (installation vs evocation).
All this becomes more understandable when it is demonstrated by Dr. Alter himself. I have personally enjoyed the opportunity to see many such demonstrations by this master clinician. Often I have the impression that I completely understand only to experience a fading of memory almost immediately as the workshop ends—as if perhaps if I could just remain within a certain critical distance…. All the more reason why I repeatedly ask Dr. Alter, "When is the book coming out?"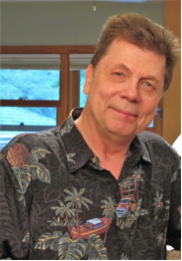 Our Reviewer, Mark Gemmell, PsyD
Currently practicing at Bridges and Pathways Counseling Services of Woodbury and Edina. Formerly with Minnesota Mental Health Clinics. Initial work was with sexual offenders both at Project Pathfinder, Inc. in St. Paul and the St. Peter Regional Treatment Facility. Largely does individual and couples work, much individual work focusing on men's issues related to anger, relationship, sexuality, porn, and sexual addiction.
---
February 11, 2017 Workshop Review
A Different Lens: Unfolding Potential in Persons of All Abilities
Presented by: Christi Siegel, MA LP
Reviewed by: Sara R. Modec Graduate Psychotherapist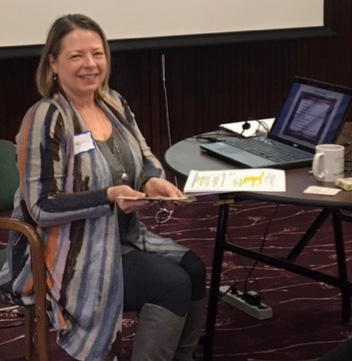 Our Presenter, Christi Siegel, MA LP
Christi Siegel, MA LP offers care providers valuable insight into using hypnotic approaches with persons with intellectual differences in a therapeutic setting. She outlines the importance of language, individual differences, working with each person's support team and recognizing how the systems clients are most often submersed in effect their presentation and presenting treatment goals. She offers a suite of traits or states to consider when working with this population including parallels between pediatric and intellectually different clients; the high potential for trauma history and anxious symptoms; and possible feelings of disempowerment and lack of control in their lives. Although she offers these generalizations, she continually stresses the importance of individual differences and tailored approaches throughout her presentation, offering her personal insights along with some techniques which she has found useful.
Christi shares some of the potential barriers to utilizing formal hypnosis, and promotes a strength based approach toward appropriate and successful hypnotic interventions. She suggests that guardedness, difficulties with focus and attention, and struggles with abstraction may interfere with formal hypnotic approaches, at times. Her presentation reflects a belief that brief, frequent and opportunistic hypnotic interventions may serve to mitigate these potential barriers. She also, proposes that persons with intellectual differences may present in natural trance states or be able to move in-and-out of trance easily. Considering the combination of these two factors, Christi submits that many clients with intellectual differences may be able to "maximize the power of fractionation" with hypnotic interventions. Through this line of reasoning she implicitly offers a general approach addressing possible innate barriers by tapping into characteristic strengths.
She encourages workshop attendees to use what we already know about hypnosis, stressing certain aspects which may be especially important with this client population. She reinforces hypnotic standards including curiosity and wonder as well as cultivating a sense of permissiveness and positivity. Importantly, she encourages us to put the client in charge, encouraging setting individualized and personally meaningful goals. She notes that communication with support team members is a must, as client goals may be different from those that guardians, parents, group homes or other team members wish clients to address. Christi mentions that allowing the client to set the pace before stepping in and leading, can be an important part of therapy, as well. Recognition and encouragement of clients' successful approximation of their goals is recommended. Focusing on these highlighted areas, Christi indirectly points to the potential toward increasing clients' sense of self-efficacy, empowerment and control in their lives, leading to improvement in mental health and quality of life.
Outside of and intermingled with her "broad brushstrokes," Christi presents demonstrative session clips, materials, specific techniques and creative suggestions for working hypnotically with those with intellectual differences. For instance, she shares a story of using the Jettison technique successfully with a client. She provides attendees the opportunity to handle materials such as various "fidgets," books and games, traditionally used with children. She shares examples of how she has encouraged trance state through kinesthetic approaches such as yoga, dance and "playing football[catch]." Her personal and sometimes emotional experience suggests a practical yet authentic approach, which has clearly been cultivated over years of mindful practice.
Overall, Christi's workshop presentation was well-thought out and passionately delivered. Her work with clients with intellectual differences is clearly more than a career choice, but a true vocation. As a fair number of my clients fall into the category of "intellectually different," the take-home's from her presentation will definitely inform my approach. However, as Christi pointed out on multiple occasions, individual differences are the key. In my opinion, due to the disenfranchisement of those with intellectual differences generalizations take the forefront, perhaps leading to less nuanced, thus less valuable, approaches. More workshops focusing on intellectual and developmental exceptionalities, appropriate techniques and age-and-developmentally appropriate tools would be a great addition to the MSCH line up.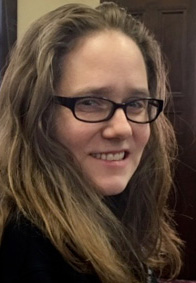 Our Reviewer, Sara Modec, MSEd Grad Psychotherapist Psycnsew Creations, Duluth
---
April 9, 2017 Workshop Review
Evidenced-Based Hypnotherapy:
Hypnosis Intervention for Hot Flashes, Stress, and Deeper Sleep
Presented by: Gary Elkins, PhD, ABPP, ABPH
Reviewed by: Heather Klein,PhD, LP
Pictures by: Carol Rogers-Tanner, MSE, LP, LMFT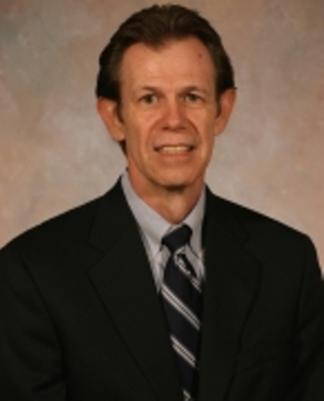 Our Presenter, Gary Elkins, PhD, ABPP, ABPH
What a wonderful day remembering our friend and colleague, Shep Myers! The day began with Al Clavel, our president, sharing his thoughts and memories of Shep. Other members then followed with their own stories and memories. Shep had a way of touching so many lives, and we appreciate how his influence is still so present in our organization, work, and hearts. As we shared, a cardinal paid us a brief visit in the window. He was perched on a set of bike handles, which only seemed appropriate. Cheryl then reminded us that MSCH will be cleaning up Shep's part of the Greenway Bike Trail on May 21st at noon (Click here for more details on the Shep Myers Greenway Clean Up.)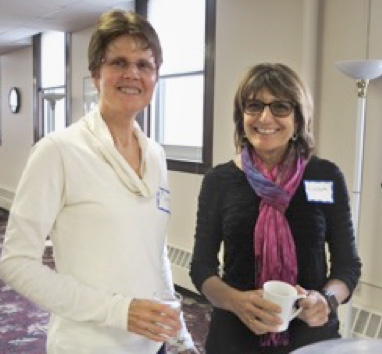 Mary Grove and Linda Haller enjoying their day together.
Gary Elkins came to Minnesota from his home in Texas to share with us his research and clinical gifts. The day was filled with didactic experiences, demonstrations, practice, and discussion. Gary's evidence-based practice has helped many persons struggling with hot flashes, stress, and sleep. His major recent contributions to hypnosis literature include: The Handbook of Medical and Psychological Hypnosis: Foundations, Applications, and Professional Issues; Hypnotic Relaxation Therapy; and Relief from Hot Flashes: The Natural, Drug-Free Program to Reduce Hot Flashes, Improve Sleep, and Ease Stress. To begin the day, Gary defined hypnosis as: the "state of consciousness involving focused attention and reduced peripheral awareness, characterized by an enhanced capacity for response to suggestion." The capacity/talent/skill to engage in hypnosis and respond to suggestion refers to one's hypnotizability, which varies greatly from person to person.
Much of Gary's work has been with breast cancer survivors and aging women and men. Gary discussed the importance of the thermoregulatory zone. Persons experiencing hot flashes, most often because of menopause (both natural and surgery induced), have a narrowed thermoregulatory zone, which hampers the body's ability to perceive and regulate temperature. Because of changing hormone levels, the hypothalamus often perceives the body as needing to be cooled even though most times this is not the case. A hot flash occurs as a way to summon the physiological response of sweating- the body's natural way to cool. Hot flashes are often treated with hormone replacement therapy. Given the increased health related problems associated with hormone replacement therapy, especially for breast cancer survivors, Hypnotic Relaxation Therapy provides a safe and effective alternative that is supported through rigorous research studies.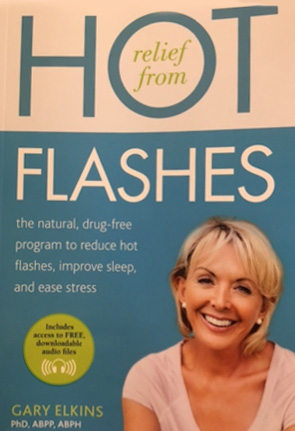 Gary's book outlining his treatment protocol – Complete with audio files.
With a little encouragement from Cheryl, I volunteered for Gary's live demonstration. With Gary guiding the way, I was able to undergo a clinical hypnotic experience for hot flashes. Gary uses a specific script for treating hot flashes, which he graciously shared with all participants. There are a few areas that can be tailored specifically for the client; however, Gary stressed that the research has indicated sufficient and necessary ingredients that must be used in the script in order for the experience to be truly therapeutic. As a participant, I appreciated the use of my experience of coolness (i.e., a pleasantly cool lake breeze as I lay in a hammock) as the basis for the hypnotic experience. Gary stressed that it is vital to use the client's true personal experience of coolness rather than one she/he has only observed or imagined (e.g., an imagined snowy mountain experience by someone who has never been to the mountains or touched snow). The cool images from true experiences used during hypnosis trick the brain to perceive coolness, which in turn allows the neutral zone (i.e., the state in which we experience body temperature comfort) to widen. "Hypnosis is like medicine…it only helps if you take it." By "take it," Gary shared that clients are instructed to practice daily. If they adhere to daily practice, hot flashes are often greatly reduced in frequency (approximately by 80%) within 4 to 5 weeks. Given that most persons are highly motivated to reduce their hot flashes, participation is treatment is high.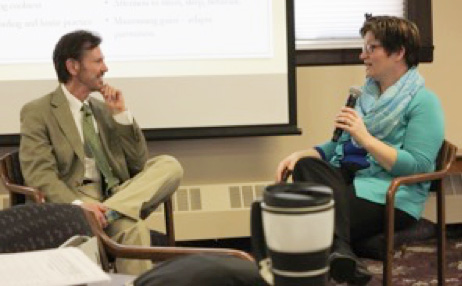 Gary Elkins conducting a live demonstration with Heather Klein.
During the second half of the day, Gary covered the importance of deepening sleep to bolster immune, cognitive, and emotional functioning. Hypnosis for sleep is strengthened by utilizing "deeper" images (e.g., a dolphin swimming deeper and deeper in the ocean, a leaf traveling in a stream that descends from the top of a mountain deeper and deeper down into the valley). Scripts such as the one describing a dolphin swimming deeper and deeper to the ocean floor have been shown to increase slow wave sleep by 57% in research participants. Slow wave sleep is a vital component for restoration and healing of the mind and body.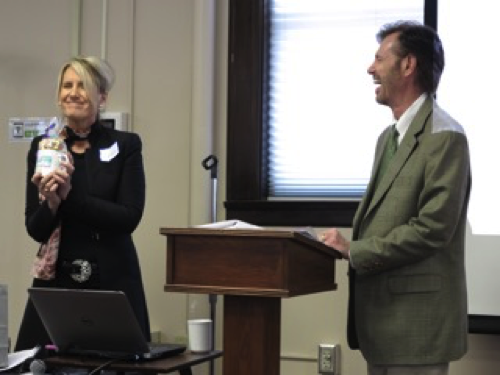 Cheryl Bemel (current Board Treasurer) offers Gary Elkins a token of our appreciation. She presented him with a MSCH mug filled with "Ice Cubes" chocolates. How perfect given the topic of the day!
Tools such as a sleep diary, the Pittsburg Sleep Quality Index, and The Elkins Hypnotizability Scale (EHS) were discussed. These tools provide important data and allow the clinician and client to make informed decisions during treatment. The EHS is a protocol for assessing clients' hypnotizabilty. This tool is valuable, because it gives the clinician as well as the client information about a client's ability to experience hypnosis and respond to suggestion. By using research to inform his clinical practice, Gary's clients experience heightened success rates and most importantly improved quality of life. Thank you to Gary Elkins for sharing his time, talents, and resources with us. This was an exceptional and delightful training experience! Personally, I am ready to embrace my inner coolness…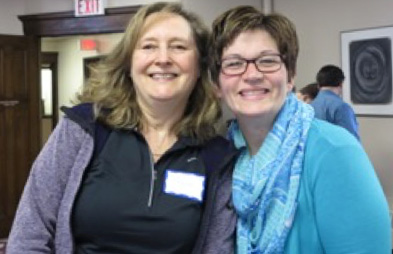 Our Reviewer, Heather Klein, PhD pictured with Randi Born, PsyD, LP
Heather Klein, Ph.D., LP is a current MSCH Board Member- fulfilling the position of Images Editor. She is a private practitioner.
---
Your Education Committee Requests
Your Ideas
The raison d´être of the Minnesota Society of Clinical Hypnosis (MSCH) is to offer cutting edge education and training in the ethical and effective use of clinical hypnosis with individuals presenting various clinical challenges. The ideal learning process is always seeking to incorporate new discoveries into ideas, sometimes refreshing or updating prevailing concepts and practices, and even replacing them when necessary.
The members of the MSCH Education Committee, who report to your MSCH Board, have been engaged in their own learning process to examine and explore where our current educational structure, content, and process might benefit from refreshing and updating our educational curriculum and practices. Our goal is to assure that MSCH education and training will consistently offer the most theoretically current, scientifically relevant, and clinically useful content. We simultaneously strive to have MSCH continue to be a welcoming "family" to which clinicians of many professional cultures seek to belong.
We will soon be presenting our findings and recommendations to the MSCH Board. We need and value your input. Please forward to the Committee, care of Andy Barnes, MD (drbarnes@umn.edu) or David Alter, PhD, (drdavidalter@gmail.com), Co-Directors of Education for MSCH, any thoughts, concerns, wishes and/or recommendations you have about ways in which MSCH can better serve you and the clients you serve.
The work we have done to date focuses on three categories of education: content, structure, and process. Briefly, here are issues relevant to each category we are currently exploring.
CONTENT: Discoveries in neurobiology, learning, memory, attachment, lifespan development, and resilience, to name a few, are prompting us to re-examine what we mean by "trance" and what methods can best help clients of all ages and circumstances to "change their minds" and their lives. The current research has important implications for what we mean when we talk about "hypnosis" and how we use the methodologies of hypnosis to interact with and have an impact upon our clients' psychosocial and-neurobiological well-being. We are seeking to assure that the content of our educational offerings better aligns with the current science and evidence-based practices.
STRUCTURE: Our members lead busy professional lives. The number of training opportunities available to health care professionals continues to multiply. Many, even when not overtly "about hypnosis," have tremendous relevance to our work with trance and the practice of clinical hypnosis. Our goal is to always "find the hypnosis in the encounter" as we seek to learn from the effective utilization of hypnotic processes evident in the various approaches that promote healing. Therefore, our committee is exploring how we might collaborate with other educational organizations to expand and improve learning opportunities for members and the larger community of health care providers. Co-sponsorship of training events, panel discussion workshops about similarities and differences between approaches, integration of new therapeutic modalities, and even the use of different technologies through which to offer trainings (e.g., "live", distance learning opportunities involving webinars, social media clinical forums, etc.) are being explored. Again, we invite you to share your ideas with us.
PROCESS: While epiphanies and eureka moments are memorable, most learning is incremental and developmental. The kind of learning that best supports effective skill building and high level proficiency is often slow, requires repetition, and is fundamentally experiential, not primarily didactic. Therefore, we are exploring different processes by which MSCH members can continue to grow and expand their hypnotic proficiencies. We are considering the expansion of consultation group learning opportunities, especially for recently trained Introductory Workshop graduates as well as opportunities for small group master classes and other forums for advanced practice experiences. In addition, other approaches, such as a semi-structured experiential learning program to offer participants a "year of living hypnotically," are being explored. Many international societies of hypnosis have discovered that learning hypnosis is akin to learning a language. As a result, various on-going, group-based, experiential practice training processes are found to be most effective for acquiring the subtle language patterns of hypnotic work.
We are very excited about the changes ahead! We are eager to hear about your responses to what we roll out. If there are ideas you want us to consider incorporating now, we urge you to share them. In the end, MSCH's continued success as a model of health professional training in clinical hypnosis in the U.S. will depend on the involvement of its members.
MSCH Education Committee: Mary Grove, PsyD, Peggy Trezona, MS, APRN, CNS, Suzanne Candell, PhD, Andrew Barnes, MD, MPH and David Alter, PhD
---
Have You Been to NPHTI Lately?
SAVE THE DATES FOR THE 2017 EDITION: OCTOBER 19-21, 2017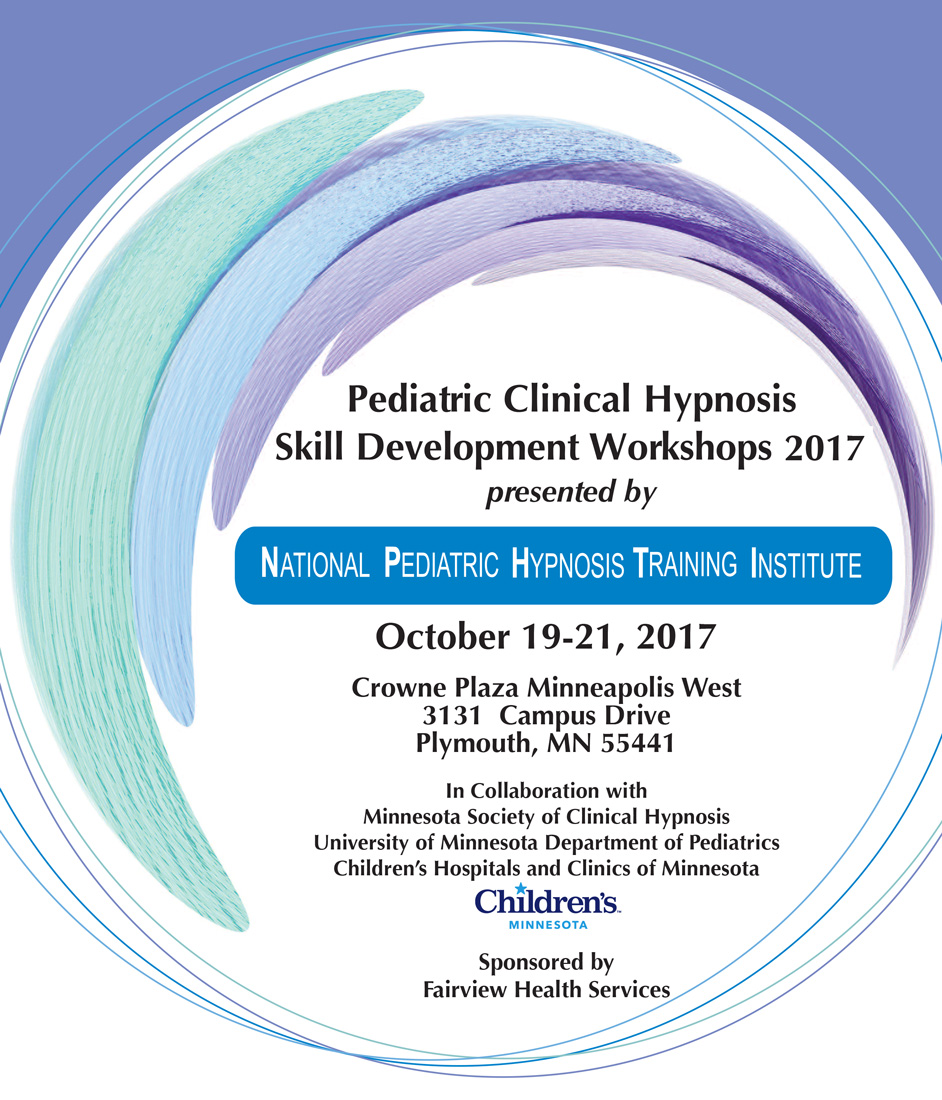 For those new to MSCH this year – and for those who have been part of MSCH for many years – we are happy to introduce/re-introduce you to NPHTI, the National Pediatric Hypnosis Training Institute. NPHTI was begun in 2010 and continued the tradition set by its faculty of teaching Annual Workshops in Pediatric Hypnosis (the preceding 24 years were under the auspices of the national group – The Society for Developmental and Behavioral Pediatrics).
NPHTI has been a wonderful success from the start and in 2017, our 8th year, we will again offer 3 concurrent Workshops: Introductory, Intermediate and Advanced. Continuing a new tradition, we have invited additional internationally renowned faculty to provide special training for our Intermediate level Workshop. Dr. Stefan Freidrichsdorf, whom many of you know as Director of Pain and Palliative Care services at Children's Hospitals and Clinics of Minnesota, will join our highly regarded national and international faculty in teaching this year.
We are also pleased to announce that in addition to MSCH and the U of MN Department of Pediatrics, Children's-Minnesota is also a collaborating sponsor this year. Like full members of MSCH, full time staff at Children's (Physicians, Advanced Practice Nurses, Social Workers, Psychologists, Child Life, and PT/OT) will be eligible to register for NPHTI at a special reduced rate. If you are a member of MSCH AND also full time at Children's, alas, you do not get a double reduction, sorry!!
Besides having another successful workshop, NPHTI had some other great milestones in 2016.
We are now under the able guidance and conference coordination of Bonnie Boucher, of ConferenceDirect. This allowed NPHTI to enjoy and experience great economies of scale, comfort, and efficiencies in the development and implementation of NPHTI 2016 and going forward.
NPHTI was approved by the IRS as a 501(c)(3) non-profit educational corporation. (MSCH, as you know, is also a 501(c)(3)organization). This has allowed us to apply for and become approved by the
State of Minnesota as a tax-exempt organization.
Our status as a 501(c)(3) organization will allow us to seek foundational and other support for us to continue to expand the educational offerings of NPHTI to Children's Hospitals around the country, as well as to provide pediatric hypnosis training to resource-poor areas in other countries. This effort began in June 2016 with an Introductory Workshop we were invited to provide at Nationwide Children's Hospital in Columbus, Ohio. This was a very successful endeavor, and some of the participants have already come back to do additional training during our October 2016 workshops. We are currently exploring and negotiating with several other groups in the U.S. and abroad who are interested in bringing NPHTI to their institutions. Stay tuned to IMAGES for further information as it becomes available.
If you see children and/or adolescents in your practices, you and they can benefit from further training in Pediatric Hypnosis with NPHTI.
The brochure is available on our NPHTI WEBSITE: www.nphti.org
For the Lowest Rate Register on or before June 30 (Advanced Workshop Limited to 6 participants): Register Today
Please feel free to let me know (dpkohen@umn.edu) if you have any questions about NPHTI or the forthcoming October workshops.
You can also direct your questions to other MSCH members who are also or have been faculty for NPHTI as well as MSCH. These include Board members Andy Barnes (drbarnes@umn.edu), Cheryl Bemel (c.bemel@comcast.net), David Alter (drdavidalter@gmail.com), Elaine Wynne (wynneE10@gmail.com), Dave Wark (wark@umn.edu), Kate Pfaffinger (katepfaff@gmail.com), and Teresa Quinn (teresa.quinn@parknicollet.com)
We hope to welcome you (back) to NPHTI!
Dan Kohen, M.D., FAAP, ABMH
Co-Founder / Co-Director, NPHTI
www.nphti.org
---
NEW to IMAGES!
The Experience: A Place to Share Inspiration and Creativity
This new section blossomed out of a conversation that the previous Images Editor, Carol Rogers-Tanner, and I had during the Shep Myers workshop. We discussed how we are inspired by engaging in creative endeavors. We thought it would be lovely to have a section of Images devoted to spotlighting the creative experiences of our members. Enjoy and be inspired!
Spotlighted in this Images: Carol Rogers-Tanner (MSCH member and past Board member)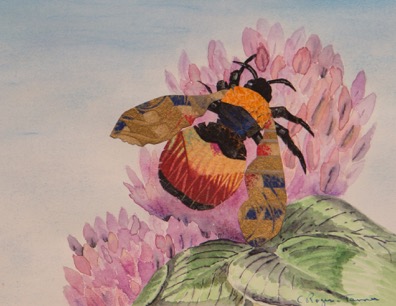 Artist: Carol Rogers-Tanner. Mixed media, ink, watercolor, pastel, and the bee is made from pieces of my hand painted paste papers.
A Note from Carol: Your esteemed editor, Heather Klein, and I were catching up at the last MSCH workshop. When she asked about my life after leaving the board I mentioned that I've been happy to have more time for art and showed her a few recent sketches. Creativity is such an important part of our hypnotic work with clients and keeping those creative juices flowing is likely a necessary aspect of a clinician's self-care. MSCH members have a wide range of creative outlets; some tap dance, some write, and there are surely others out there who create visual art. I agreed to send Heather photos of a couple of my pieces with the caveat that it be done as an invitation to others to share something about their own creative pursuits. So let us know!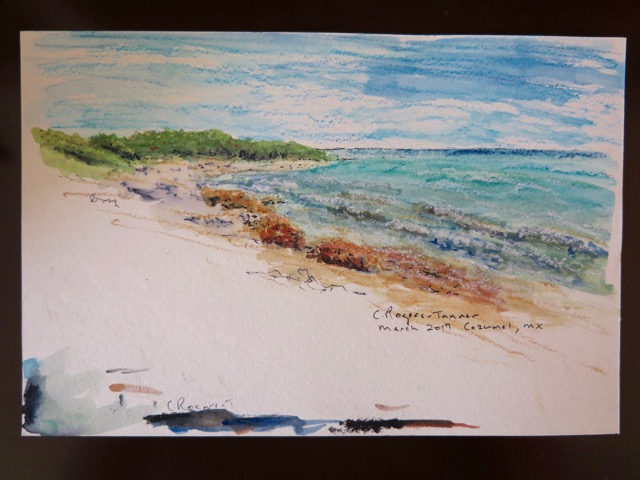 Artist: Carol Rogers-Tanner. A plein air sketch in ink and watercolor. Painted in Cozumel, Mexico in March.
Send your creative works to
Heather Klein at: (drheatherklein@hotmail.com).
---